Remodeling your kitchen or bath yourself can save you a lot of money. If you have woodworking experience, installing cabinets and molding is relatively easy. However, some parts of a residential remodeling job are best left to qualified professionals. One of these is wiring. You need a skilled and qualified electrician to ensure that your wiring is run properly, that your circuits aren't overloaded, and that the electrical panel connections are made correctly.
Licensed Renovation Electricians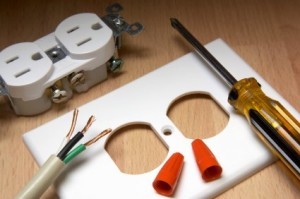 At M.R. Stoner Electric, we can help you with the electrical components of your remodeling project, whether that's adding a few new light fixtures or rewiring an entire room. We do the work quickly, efficiently, and affordably. Plus, we offer true pricing. That means that you'll know exactly how much you're going to pay before we ever start the job. Our quote is not an estimate: it's the final price.
When you work with M.R. Stoner Electric, you don't have to wait all day for our electrician to arrive. We'll give you a time and then call when we're on our way. That way you can do more with your day than sitting around waiting for us.
We're rather proud of our customer service record, something that's earned us an A+ rating from the local Better Business Bureau. At M.R. Stoner Electric, our motto is "a customer not just one time but for a lifetime."
Call us today at 919-774-8877 to schedule an appointment.