M.R. Stoner Electric, Inc. is an electrical contracting company serving residential, commercial, and industrial customers in Sanford, Cary, Chapel Hill, Pittsboro, Fayetteville, Southern Pines, and the surrounding areas. Our office is centrally located in Sanford, NC.
Owned and operated by Martin R. Stoner since 1992, M.R. Stoner Electric has grown into a company with eleven highly-skilled electricians and technicians who use six fully-stocked vans and boom trucks to serve our customers. Martin has 40 years of experience working in every aspect of residential, commercial, and industrial electrical applications, including new construction and service work. During construction and start-up of the Shearon Harris Nuclear Power Plant in New Hill, NC, Martin was selected as one of a handful of electricians qualified to work inside the reactor plant.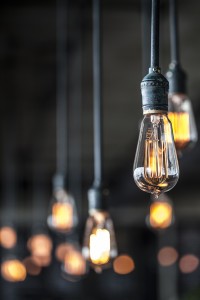 After several years of working for large electrical contracting companies in NC, and with the support of family and friends, Martin moved forward with his dream of becoming a business owner. As a husband and father of two young boys, Martin's goal was to build a family business, based on positive values and ethics, to provide security for his family and a place where his sons could learn the electrical trade. Martin began his business with one pick-up truck and a tool belt, serving only the Sanford, N.C. area.
Today, M.R. Stoner Electric, Inc. is a valued member of the Lee County business community having earned an A+ rating from the Better Business Bureau and is a frequent contributor to local charity events and organizations. M.R. Stoner Electric is also a proud member of the Sanford Chamber of Commerce. Our professional, highly-qualified, electricians provide service in Chatham, Cumberland, Harnett, Lee, Moore, Orange, and Wake counties.
Since 1992, we have operated true to our motto: "a customer not just one time, but for a lifetime!"
To ensure your complete satisfaction, we provide:
Professional qualified technicians, Our company is fully licensed, and insured
Courteous and knowledgeable staff to answer all calls, not a voice mail machine
Up-front pricing: you know the price before we begin work
100% Satisfaction Guarantee
Turn to M.R. Stoner Electric for all of your residential, commercial, and industrial electrical installations, and service and repair work.
Call M.R. Stoner Electric today at 919-774-8877 to discuss your electrical needs.