When you have a problem with the electricity in your office, you need a reliable electrician right away. M.R. Stoner Electric is available for you whether it's at 9:00 A.M. on a Monday morning or Midnight on Saturday.
Licensed Commercial Electricians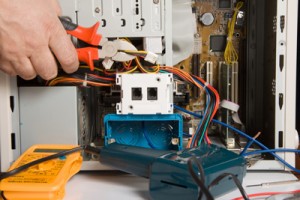 M.R. Stoner Electric wants to be the go-to commercial electrical contractor for your business' electrical needs. We are available when you need us, whether that's during traditional business hours or in the middle of the night.
No job is too big or too small for M.R. Stoner Electric. We will cheerfully add a new outlet to your office or rewire it entirely. Our experienced, qualified staff has the expertise to get the job done right: efficiently and affordably. Our commercial services include:
Office indoor and outdoor lighting
Commercial rewiring, repair, and replacement
Installing and servicing standby generators
Installing and servicing outlets
Performing safety inspections
Why Choose M.R. Stoner Electric?
At M.R. Stoner Electric, we operate a little differently from other companies you may have worked with in the past. Our features include:
True pricing. We give more than an estimate. We assess your specific needs then give you a firm price before we ever pick up a tool. You'll know exactly how much you'll have to pay for our services before we start the job.
Quality customer service. We arrive on time, every time, with booties on our shoes so there's no mess on your office floor. We're proud to have earned an A+ rating from the local Better Business Bureau.
No answering machines. Our friendly, knowledgeable staff takes messages for us when we're not available.
Locally-owned and operated. When you work with M.R. Stoner Electric, you can be assured that your money is staying in the community. Our owners and employees are your neighbors and we understand and support our communities.
Fully licensed. M.R. Stoner Electric is a fully-licensed and insured electrical contractor. We'll arrive at your business in a company van, in a uniform with a name tag, so you don't have to worry about letting our workers in your secured areas.
We offer a 100% Satisfaction Guarantee on labor and materials we provide. If our repair fails in the first year, we perform the repair again at no charge.
M.R. Stoner Electric is your go-to company for all of your commercial electrical needs. Our motto is "a customer not just one time, but for a lifetime."
Call us today at 919-774-8877 to set up an appointment.